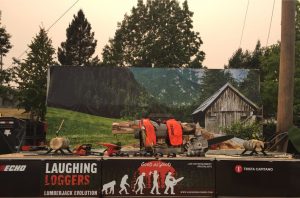 Lumberjack Evolution - The Ultimate Entertainment Show
Bring on the evolution of logger sports! Our all new lumberjack show will be the highlight of the fair. The Laughing Loggers have put together the best in the bush to put on a top-notch entertainment show that will have the crowds laughing like a possum up a pine tree! Our brand new truck and trailer can simply drive into your grounds/arena, drop down the stage, hit the winch and have a 50 foot pole set up with a complete show ready to go in just 22 minutes! We also bring our own sound system including four Yorkville thousand watt powered speakers, wireless microphone, lapels, a generator incase there is no power to the site and a DJ who keeps the tunes cranking! Typically we perform three shows a day with the added bonus of keeping the site active all day long with our all new KIDSZONE, BattleAxe and chainsaw carving with TV personality, Ryan Cook. With the Laughing Loggers, we keep the crowds entertained all day!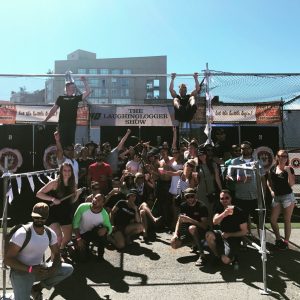 BattleAxe - An Activity For Everyone
Why sit and watch when you can have a throw!?! BattleAxe is a safe, fun and competitive activity that over 16 years has been designed so everyone can enjoy the thrill of throwing a light hatchet and hitting a target. We have developed this activity so it can fit in almost any environment. Indoor, outdoor, roof tops, heck we've even done it on ice. Safety of participants and protection of the surrounding environment are our primary priority, but with out a doubt we make sure your guests are set to have an absolute blast. No group size is too big or small. If it's a corporate team building event, group activity, private party, event attraction, our seasonal league we can delivery you a top notch axe throwing event. Our event includes all insurances, legally vetted waivers, safety and equipment check list, trained personnel, equipment, competition format and sound system to crank up the party!!!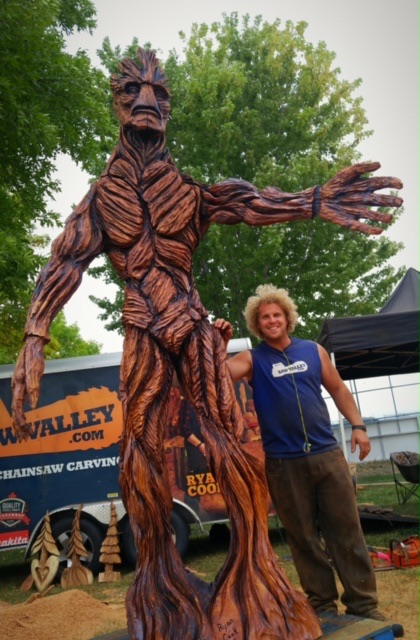 All New 2018 Chainsaw Carving with International Carver RYAN COOK, as seen on 'Carver Kings' and 'Saw Dogs'
Again we continue with the carving experience that draws crowds with the movement and sound of saws while producing pieces of art your guests can take home. An absolute hit at all fairs and left with never enough time in the day to carve out these creation we have partnered up with the talents of the Cookie Bear, 'Ryan Cook'.  A personality that has a massive following after his exploits on 'Carver Kings' and 'Saw Dogs" not to mention his trail of accolades from multiple national and international carving competitions.
Event draw card, commission pieces, fundraising opportunities, you name it and we can do it.
Together with the Laughingloggers we are set to razzle and dazzle your crowds and your next event.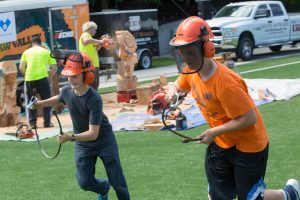 We have created a great day out for the kids and some that will turn these wee tackers in little lumberjacks and jills in no time.  A host of events that kids can safely do in a controlled environments gives them a chance to learn some new skills and understand some a of the skills used in the timber industry.  All are designed to simply have fun and something event toddlers can try.  Take a load off Moms and Dads, let us take over while you kids have the time of their lives with our trained lumberjack and jills.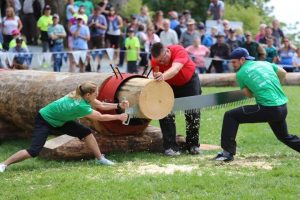 Extreme Logger Sports Competitions
Our passion is Loggersports and we eat, breathe and sleep it!
If your looking of something to take your next event to another level, well Loggersports is the way to go.
Our experienced team can create the best competition your event has ever seen.
It is our goal to deliver our sport of passion and recognized industry sport in a way that encourages other to become involved, grow the sports and develops the sport for the next generation.
Have a yarn with us to let us show you the way forward with Logger Sports.
Book Your Next Event With Laughing Loggers
Pick a program that best fits your schedule and goals